Microsoft Power Platform – a short introduction
Global robotic process automation (RPA) software end-user spending is estimated to grow 20% as compared to 2021. This means a heart-stopping figure of $2.9 billion (Gartner). And what is the Power Platform, the most popular RPA used all over the world for business? Let's find out. The Power Platform from Microsoft connects to a wide array of data sources. This includes third-party apps (like Twitter, Google Analytics, etc.) and can maximize your operational proficiency when working with Dynamics 365 or Office 365. Microsoft highlights that with the Power Platform capabilities, you van very easily extend, customize your system and integrate the services you need for your business. It is expected that Power Platform will be a key player in bringing the newest Microsoft technologies together. This can be done by helping connect services like Microsoft Dynamics 365, Microsoft Office 365 and Azure with a low-code (or sometimes eve no-code) approach. But what is the Power Platform from Microsoft exactly? Despite one name, this is a combination of several low-code applications which all come under the Power Platform name. These are: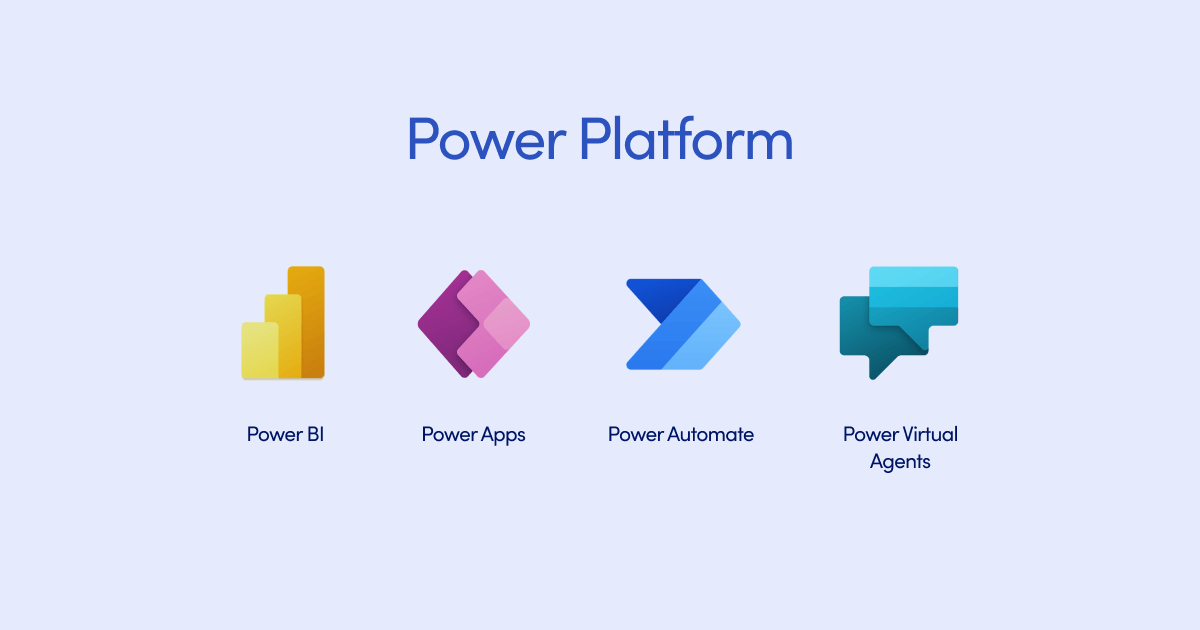 Power BI
Unified self-service and analytics solution for data visualization and sharing business insights across your organization. Together with Azure enterprise analytics services, Power BI allows you to quickly unlock insights and also embed them in your website or app.
Power Apps
It provides a low-code approach to building applications for any device that you need. It also works seamlessly with Azure services through a rich extensibility model for developers. It allows a "point-and-click" approach to building apps.
Power Automate
This is an automation platform that allows you to leverage your legacy systems that previously were off-limits. With Power Automate, you are able to quickly automate solutions with simple workflow automation or more robust process automations with RPA bots.
Power Virtual Agents
Power Virtual Agents enables you to create intelligent no-code chatbots. You can then integrate them very easily with your existing services using, for example, Power Automate and customer workflows or extend Power Virtual Agents custom capabilities with Bot Framework Skills.
Microsoft Power Platform capabilities
Each of the Microsoft Power Platform apps allows you to create solutions that improve, accelerate your business and make it stand out from competitors. What is the Power Platform when talking about functionalities? Let's take a look at separate Power Platform applications again, this time at their capabilities:
Power BI
Makes it possible for you to:
Click and connect with both Microsoft and third-party cloud services, also with any on-premises data sources
Manipulate the data easily in order to create visuals (charts, maps, dashboards, etc.) so that you can present the business data you need in an easy, digestible format
Analyze and combine the data, including the complex data sets for continuous improvement and enhanced business intelligence
Use natural language to query data and get the results
Power Apps
Lets you:
Build mobile-friendly apps in no time, with no development knowledge and no involvement of internal IT teams
Connect to surface data from your business application (not only Dynamics 365 and Office 365 but the third-party apps, too)
Surface key data into a user-friendly app to facilitate data entry. This way, the users only see restricted information that they really need on a daily basis to fulfil their tasks.
Power Automate
Allows you to:
Create and develop your own automations with various apps (be it SharePoint, Outlook or even non-Microsoft apps like Twitter, Asana or Gmail)
Use pre-built automation templates (within the Flow Gallery) for common automations
Set up triggers, alerts, push notifications and automated emails (no coding required)
Power Virtual Agents:
Makes it possible to:
Handle the entire chatbot development life cycle (from dialog creation to deployment in Skype, Teams, Slack, etc.)
Integrate the service with other tools within the Power Platform (e.g. Power Automate to trigger any workflow)
Use adaptive cards in the bot so that the UI (user interface) is more intuitive and easier to manage
Build a FAQ bot and deploy it to any channel that you need
Use the natural language understanding (NLU) features for virtual agents
Microsoft Power Platform Benefits
What is Power Platform's main advantage? The one that is most highlighted by the users is the time reduction spent on mundane, repetitive tasks. This is strictly connected with reduced human error (naturally associated with performing these tasks) and also results in streamlining of processes. But what are some more specific benefits when talking about Microsoft Power Platform?
You get connected tools: did you know that there is no other low-code platform that offers the ability for seamless collaboration? You can work with Microsoft cloud services, lots of business applications and data sources using a library of connectors. The possibility to integrate and connect the systems gives technological and operational leverage for your company.
You manage all enterprise business processes in a single platform: with the Power Platform, you can govern a single source of truth. Organizations who used to struggle before with the change management model or driving accountability with data owners can now utilize an enterprise-grade platform to empower their workers, even when using multiple and disparate business tools.
You are fully compliant: all Microsoft Power Platform tools are built on Azure. This means that each user gets the same enterprise-grade security plus administrative controls that are used and trusted by businesses around the world.
You improve productivity: with apps like Power Automate, you can automate common, routine tasks, e.g. document generation, approval of docs, scheduled flows, etc. Say goodbye to doing these activities manually. With the Power Platform, you save time, do less work and don't have to worry about human error consequences for your business.
You facilitate collaboration and remote work: with the Power Platform that handles full app integration, you can easily collaborate with teammates, also remotely within the cloud-based system. Apart from flexibility, which is the obvious benefit, Microsoft Power Platform lets you keep employees on trach, improve efficiency through workflows and ultimately save on resources costs.
You can use the built-in connectivity to services such as AI Builder or GitHub so that as a professional developer, you can easily switch between the tools when building the applications. As your business needs grow, you can further modify and customize
With built-in connectivity to services like GitHub and AI Builder, professional developers are able to easily switch between tools while building applications that span a full range of complex requirements as your needs grow.
You deliver services with agility: you add business value more quickly than ever thanks to out-of-the-box common tables, extended attributes, semantic meanings and what is more, an open ecosystem which is enabled by the Common Data Model.
You get the self-service platform: with many business applications, you need to lean on (if not depend entirely) on the IT department or help of developers. Not when you have the Power Platform. With the low-code to no-code approach, Microsoft Power Platform apps make it much easier to generate insights from data, deploy the apps, create workflows and leverage AI on your own. The capabilities offered by each of the tools are intuitive and in most cases achievable, e.g. through drag-and drop or point-and-click options. The citizen developers can create and deploy the apps while the end-users can use all the functionalities and features without the help of your IT department.
Microsoft Power Platform – use cases
With the Power Platform applications, you can easily build the business applications that you need. Although each of the services can be used as a standalone app, you can only unlock their full potential by integrating them into a common ecosystem and connecting them with your existing systems. First, you need to look at all the factors involved. Sometimes, the focus is on complex processes, other times on security and compliance, leveraging existing technology or managing the business expectations. Whatever the angle, the Power Platform tools work fantastically as industry accelerator for many business branches. Let's take a look at how Microsoft Power Platform enhances the specific industry operations.
Microsoft Power Platform licensing
Power Platform as a whole does not need to be purchased as a whole. Each of the applications – Power Apps, Power Automated and Power Virtual Agents can be accessed separately with Power Apps, Power Automate or Power Virtual Agents licenses. There are also required for users to input data, query or view data from these apps through a pooling device. Generally, the capabilities are licensed on a standalone basis. You can mix and match between the three products]. Also, if you have not tried them, you can use their free versions or take free trials to see what their capabilities are. The Power BI is licensed separately. Currently, there are three versions available – free, pro and premium. Would you like to learn more? Check
Microsoft Dynamics 365 Implementation Services
.