When you hear someone talking about how business tools can empower employees to drive more business value, you probably take such statements with a pinch of salt. And most of the time – rightly so. However, with Robotic Process Automation (RPA), we don't beat around the bush.
To start with, let's take a look at the stats regarding the RPA market landscape. The RPA services market is predicted to top $12B in 2023. And the increasing need for automating the redundant, mundane and repetitive tasks may even drive the market over the forecast figure.
One of the most robust robotic automation framework is offered by Microsoft. In fact, in 2021 Gartner report, Microsoft was acknowledged as a leader in the area of Robotic Process Automation. What does this mean for you? Microsoft results show a 71% increase in time savings and the impact of robotic automations is estimated to bring $25-30M savings in next 2-3 years, following the implementation. Now, let's get down to brass tacks.

Microsoft Robotic Process Automation (RPA) – automation at your fingertips
RPA is here to make your life easier and save your money. But what is it exactly? And how do RPA tools do what they do? Microsoft Power Platform is a framework containing state-of-the-art apps that allow you to fully automate your business. Let's take a simple example of automating an invoice workflow. Imagine that one of your contractors has finished a project and is ready to invoice their works. To do so, they send an invoice PDF file via email. Power Automate – one of the functionalities that belongs to Microsoft Power Platform ecosystem – monitors the inbox and AI builder extracts information form the email attachment. Then, it sends a relevant approval request via Microsoft Teams. The application that manages invoices gets open via UI flows and all the invoice details are input (mind you, that the real time currency conversion is used, too). Our contractor gets an email notification to say that the invoice has been approved. This is just one of countless examples. Classic RPA use cases are to be found in almost every department of your company – we have gathered a handful of examples below: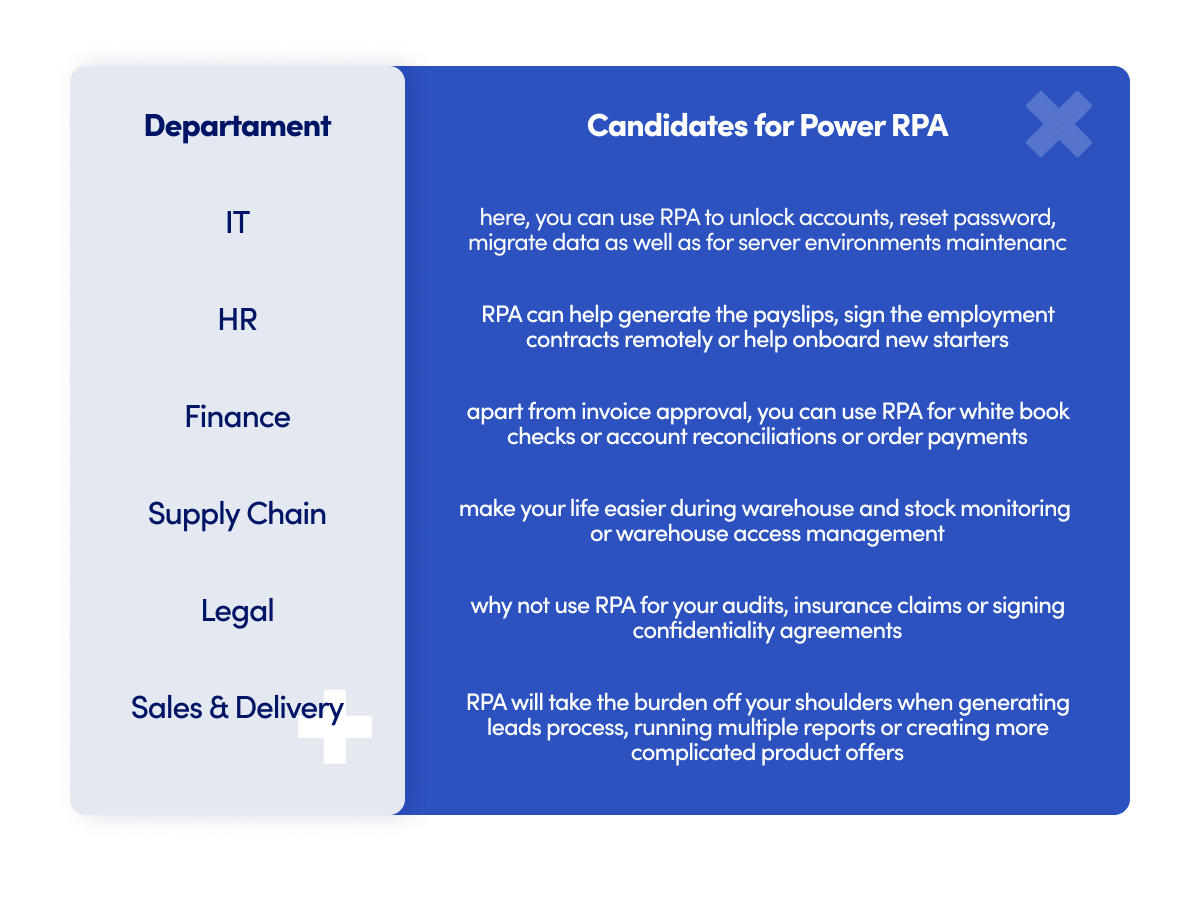 Microsoft RPA tools – think before you click
The RPA tools offered by Microsoft Power Platform are unrivalled when it comes to their technological usability. Build your own business process and event-drive flows, create UI flows and integrations with any legacy system and choose if you would like them to run in unattended (no human interaction needed!) or attended mode. Manual workload is a common burden for business users. However, it is not common knowledge that with robotic automation you can also save time and effort around some other tiresome and inefficient processes. Microsoft Power Platform offers a vast array of possibilities where you can utilize robots to do the work for you and – more importantly – to bridge the gap between old apps and modern systems with hyperautomation. Let's take a look at some of them: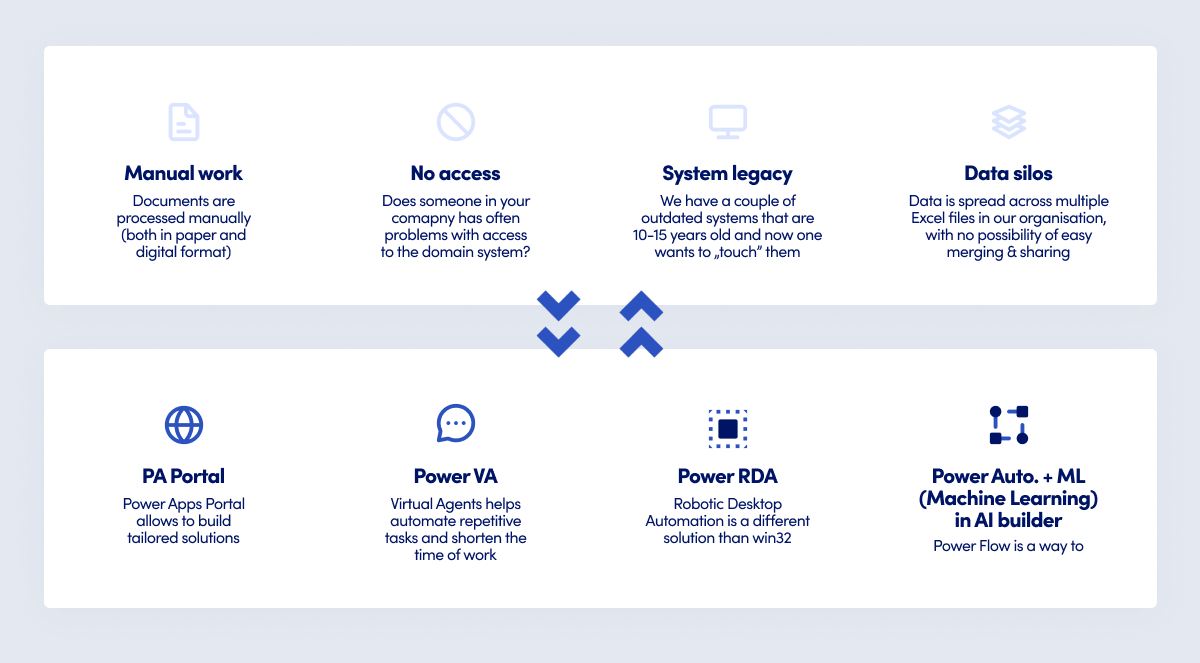 Let's futureproof your business with XPLUS
Our expertise in implementing PowerApps tools is global. For small and big companies, we present solutions that are critical for our Clients' business continuity processes. What is more, with Power Automate Process Advisor (that is part of Microsoft RPA platform), we will help you discover and understand the processes that have not been described here, however are the perfect candidates for robotic automation. We treat analysis, careful observation and cooperation with each of our clients as fundamental for an effective process automation and a fruitful process document creation. Let's meet and talk how we can help you futureproof your business with Microsoft Power Platform:
"Microsoft Dynamics 365 Implementation