Microsoft Dynamics 365 – modern business solution
Microsoft Dynamics 365 is a set of integrated applications that together make a modern, agile business solution in the form of an ERP system. It is the latest generation of intelligent apps which give you all the tools to manage your organization and business operations across the entire value chain.
More and more companies are looking out to implement a business solution that is intelligent and future-proof, particularly in times of accelerated change and unforeseen market conditions. Dynamics 365 is such a solution. It brings together a lot of other Microsoft platforms – you can utilize Enterprise Resource Planning (ERP), Customer Relationship Management (CRM) and Business Intelligence – which you can use from one place, either on-premises or in the cloud. In fact, Dynamics 365 ERP is currently the leading ERP system globally (Panorama Consulting Group 2022),
With Dynamics 365, you have a direct impact on your company's operations, finances, profitability and agility. You can ensure that the silos are broken down and the organization has the best conditions to fulfill its market potential.
What is a business solution?
A business solution is commonly understood as a set of ideas which help an organization achieve its objectives. Business solutions can cover: marketing, payroll, finances, accounting and all other essential business activities, depending on the industry or expertise.
A business solution might also address the business need to solve a specific business problem. Depending on the niche, the problems on the market differ and so the business solutions are also different in order to cater for the needs of specific companies.
The business solution might also be understood as a whole methodology which includes not only the technology needed for the enterprise but also strategic planning and technology evaluation. Strategies are often action-oriented in order to identify and act upon the opportunities for growth and leveraging technology to improve customer service and enhance the employer experience. A lot of companies need to restructure their operations, implement changes on the managerial level and change the processes to provide business solutions efficiently.
Looking for a new business solution also brings economic benefits. Companies discover new opportunities and enter new markets where – with a business solution – positions them better at a competitive edge among other fellow organizations. Increased efficiency leads to growth in the customer base and also generate new jobs within the industry.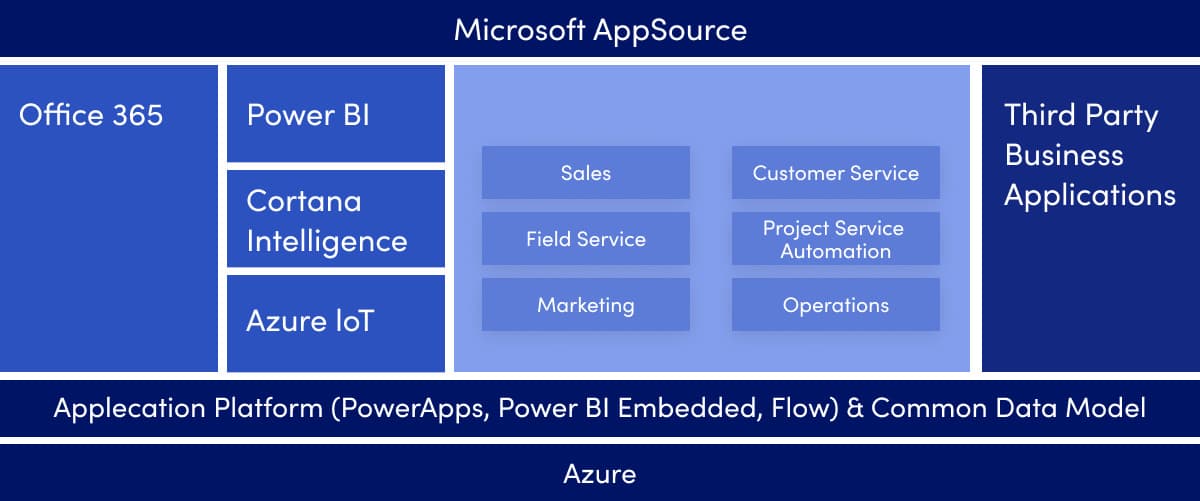 Microsoft Dynamics 365 – a business solution exactly for you
Implementing or introducing a new business solution can be costly. The projects can take up ages and dry up all the resources faster than predicted. And at the end, it might turn out that it is not exactly what you were expecting. It happens. With Dynamics 365, you don't need to worry about the after go-live stage. It is a business solution that suits you and not the other way round. Microsoft Dynamics 365 applications have been designed to work together but also seamlessly integrate with your existing system. They all create a comprehensive solution that connects your whole business, regardless of the niche. How? Varied licensing options and a diversified Dynamics 365 portfolio let you choose exactly the components (business applications) that you need for your business. Whether you are in the construction industry, looking after supply chain management, want to stay connected with your customers in retail or looking for a way to boost your sales – D365 is what you need.
Why choose Dynamics 365 as a business solution?
There is a number of reasons why companies choose Microsoft Dynamics – be it ERP or CRM – as their business solution. Let's take a look at the ones that are most often mentioned by the clients:
Process optimization: Dynamics 365 makes your processes simpler and streamlined. Thanks to thorough business insights, data visualizations and real time data, you can provide your organization with informed, data-driven decision-making tools. D365 simplifies and streamlines your processes across sales, finances, production, warehousing, project management, services and many more areas of your business.


Increased productivity: within Dynamics 365 and its user-friendly and tightly integrated application, you can keep track of the productivity, monitor and measure all activities and see what needs to be improved and what does not work. With this business solution, you make sure that you break down all the data locks, share the updated data, keep everyone on the same page and encourage working smarter.


Always the latest version: in the time of intensified cyber- and ransomware attacks, having a technological business solution that is always up-to-date is extremely important. With Dynamics 365, you benefit from an evergreen Microsoft One Version approach. You never run old software versions, miss new functionalities and major update projects and so don't run the risk of malfunctions or bugs entering the system and impeding the business.


One solution for the whole business: convenience. This is what – apart from profitability – drives the business forward by making the employees satisfied. A huge advantage of Microsoft Dynamics 365 as a business solution is that it supports processes from a single point of truth. You can manage multiple currencies, time zones, languages, localizations, multiple banking and compliance from just one place. This helps in maintaining consistency and standardization across various entities across the globe.


Building long-term relationships: a common challenge for all companies – how to keep the customers engaged and happy. Dynamics 365 makes it much easier. It allows you to streamline all business activities. With Dynamics 365 CRM, you can even use centralized services for customer relationship management. Such a business solution raises the retention rate and gives greater visibility into customer activities.


Licensing with no ties attached: Microsoft Dynamics 365 offers licensing options and variants which are all transparent, simple and customizable. Plus, you only pay for what you need when creating your business solution. Each of the Dynamics 365 apps can be purchased individually and the pricing options include "per user" or "per month" models.


Easy and friendly UI: Dynamics 365 works like any other Microsoft product. That means it is already familiar to the customers, which speeds up onboarding and training and makes users more comfortable with the system. On top of that, they can leverage the tools already in use (like Office 365, Skype for Business and Exchange. Ultimately, this also means a lower Total Cost of Ownership for any business (TCO).


Automation of manual tasks: digital transformation inevitably means automation. Dynamics 365 as a business solution saves both time and effort spent on monotonous, repetitive activities. This also ensures that the approval and notification processes go more smoothly and do not clog the business pipeline.


Possibilities of integration: a business solution that can be easily integrated with legacy or other work systems is an important aspect. Microsoft Dynamics 365 offers seamless integration with not only Microsoft products but also your third-party applications. More importantly, you can connect Dynamics 365 with other CRMs and ERPS – such as Salesforce or SAP.


Business data centralization: the above mentioned possibility of integration, combined with the customization that you can introduce to your Dynamics 365 ERP or CRM allow you to build a centralized operational platform. What does this give you? You can easily spot weaknesses and strengths of your operations and monitor business processes more closely to increase efficiency across the organization