Right calculations? Quick reactions? Planning methods that meet your requirements? Mastering supply chain complexity? This and more you can achieve easily with the software that has been designed and tailored to manufacturers' needs – a production planning ERP (Enterprise Resource Planning) system.
What is production planning?
But first, let's start with the basics. Production planning is basically mapping your actual resources into a single production plan. It involves processes and strategies for the allocation of resources – be it raw materials, workers or the workstation. The goal is one and the same: to ensure timely order fulfilment which means optimization of the whole manufacturing process. It is a complex process that involves the estimation of:
Sales and inventory level
Target production management
For any manufacturing business, you need agile planning software to ensure that raw materials, machinery, employees and other items are there. This guarantees that the production – and its delivery – will take place within the scheduled timeframe. Production planning ERP software will help you make sure that you take better care of collective planning and carefully analyze and manage the resource allocation. It consists of features and functionalities that you can tailor to the needs of your facility.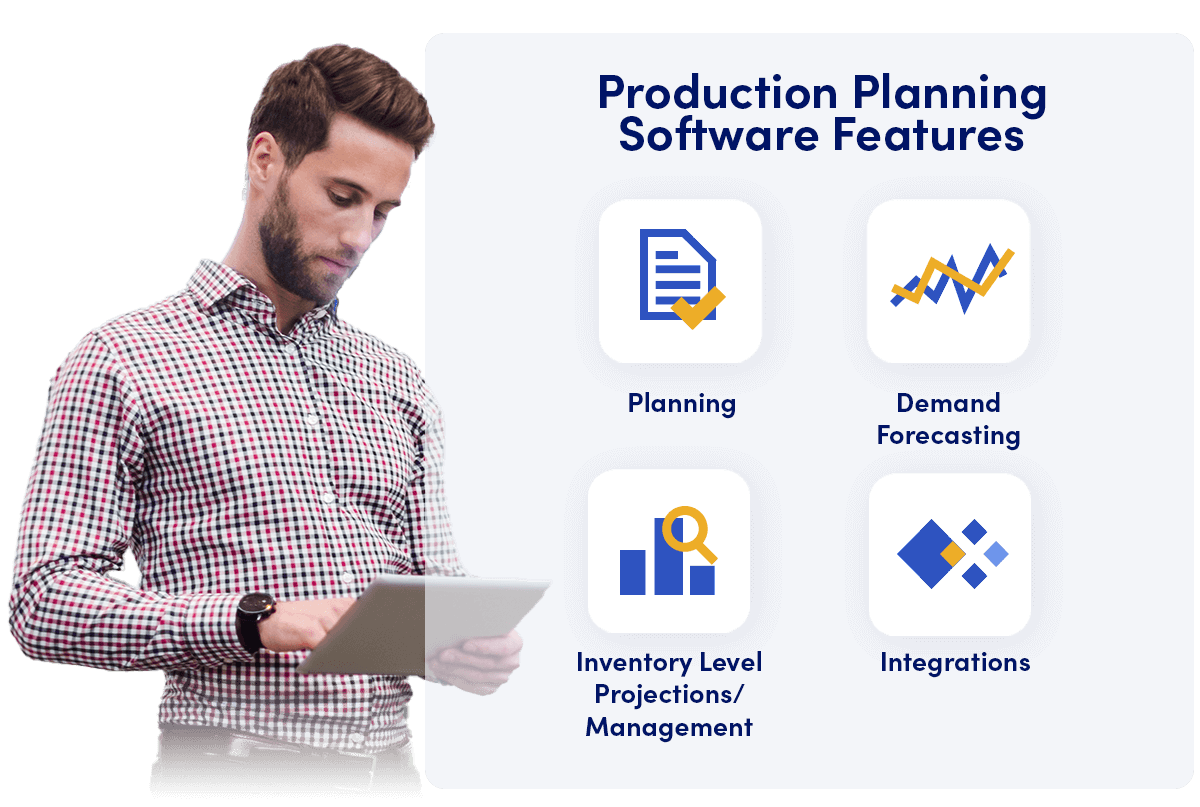 Production planning software – why ERP?
ERP for production is the future for manufacturers. It has been proved to be the quickest way to increase the performance parameters when streamlining the production planning process. Production planning done with inappropriate tools is doomed to be unsuccessful. ERP software offers an ERP production planning module that has been designed particularly for manufacturers' needs. It allows them to plan and control the production process – from product design, through production phase up to the product delivery to customers. ERP production system consists of a whole array of integrated business management applications that have been designed for production planning. All information is available in a single source of truth. This gives a 36-degree view of your entire manufacturing process. It also enables the monitoring of production phases and their status in real-time, without dependency on any workers. Without ERP production planning software, your manufacturing business will stay far behind the competitors. It is essential for managing the production process through forecasting demand, controlling inventory and waste reduction. With a modern ERP production system, more and more manufacturing companies can generate products of better quality, minimize the risk and maximize their profits. We will look at the benefits in more detail.
ERP production planning benefits
If you are thinking about choosing (or upgrading) your ERP for manufacturing, the production planning module is one of its critical components. The benefits – apart from the radical growth in the production capacity – are multiple. Let's highlight the most important ones.
Workload with poor workflow has many negative consequences – delays in delivery orders, lost customers, higher production costs, etc. It is therefore very important to keep the workflow smooth. An ERP production planning module enables workload automation that guarantees a smooth and reliable workflow. What is more, by eliminating repetitive tasks, manufacturers can shift their focus, hence increasing the overall productivity.
Customer service enhancement
With the production ERP system, the deliveries are always of high-quality and on time. The ERP production planning module streamlines the manufacturing processes – from raw materials procurement up till their conversion to the final products. Scheduling and optimizing capabilities ensure the timely delivery of impeccable goods which is crucial in developing and maintaining long-lasting customer relationships.
Process production ERP modules also largely facilitates the manufacturing of goods. With ERP production system such as Dynamics 365 SCM you are able to balance holding enough stock to satisfy the demand and holding extra inventory to minimize the cost and risk. You are able to update the status of materials in real-time and ordering can happen automatically when stock requires replenishing. The whole inventory processing in the ERP production system occurs in a streamlined and predictable manner.
Poor order management may result in over-or understock and customer dissatisfaction. If you want to prevent sinking profitability, invest in a comprehensive ERP production system. With such software, you can manage entire purchase processes from one place and make sure your order records are always up to date. In the end, you reduce inventory costs and avoid the risks of misinterpreting data or even running huge losses.
Tip-top machinery that is regularly maintained contributes to meeting production targets in time. If it is not, however, this results in lower (or lost) productivity. ERP production planning makes it possible to schedule maintenance management and timely cleaning of any underperforming machines. Therefore, it will allow you to make sure you meet the targeted outputs and also that you use the resources optimally.
Increased production capacity
ERP production management and planning system also has a significant impact on your production lines and output. With real-time data and analytics, you can easily synchronize the production line functioning. What does this result in? Definitely an increased sales rate.
Improved Delivery Performance
With a production ERP system, you can control all quality checks in your business. High-quality products are key to the success of your manufacturing business. ERP production planning software guarantees that your customers are satisfied (and will endorse your brand) if your product quality is consistent. You can keep track of all the checkpoints in the production process and ensure the final delivery of your goods is never compromised.
ERP production system – full support for manufacturing
A modern and agile ERP production management and planning system can help you in various areas of your manufacturing business. What are the key features of ERP production management and planning system? Let's take a quick look: Warehouse Scheduling Project Management Service Document management Multisite Supply Chain Forecasting Distribution requirements planning Order processing Controlling Purchasing Sales Reporting Financial accounting Dashboards
ERP for production – production planning processes
ERP production supports multiple types of production. What are the most common ones? We have gathered them for you:
Work (or project) based production
This type of ERP planning method focuses on manufacturing a single product – it is often used for the production of customized products (e.g. jewelry, flat interiors, etc.). Production is mainly handled by a single worker (less often a group of workers). It does not interrupt the standard production process.
Products manufactured via process production are not countable. This is a typical method for manufacturing liquids, gases or chemicals.
This one uses the same method as in process productions. It is most suitable for manufacturing products in less time. Therefore, it is recommended to use automation for mass production in order to reduce the change over time
Similar to mass and process production, also supported by production ERP system. When using this method, products flow continuously through the production lines. It is used for manufacturing mainly electronic items, such as TV sets, home appliances and mobile handsets.
With ERP planning system, you can also manage the batch type of manufacturing. With this method, the production takes place in batches. This is used for example to produce cookies or chocolates. If we take into account various aspects of the production process, the ERP planning system also lets your manufacturing business manage:
Capacity planning: used by organizations to find out their capacity to manufacture the given products as per demand.
Master Production Schedule (MPS): support scheduling of particular material or product for production in a given time. These are created by the software and later on customized by the user.
Material Requirement Planning (MRP): such a system helps in ERP production planning and scheduling. It gives you information about the availability of raw materials for specific production. MRP can be either done manually or automated with the use of software.
Define your goals with ERP production planning software
While designing the production plan for your manufacturing business, you need to clearly define and analyze the objectives of your production planning. What should they be? How to choose them? It's better to analyze them in advance before you choose an ERP production system. Let's take a look:
[GRAFIKA]
Determining the production capacity
The priority for manufacturing companies is the total capacity (the target) that is to be produced. Without planning the production capacity, the whole planning strategy will go awry. What needs to be considered in order to determine the production capacity correctly? Definitely the infrastructure for handling the production procedures, the availability of raw materials, the machinery, the labor required and the time to process timely each batch of finished goods.
Demand forecasting
Once you have the planning capacity calculated, it is essential to specify the targeted audience for whom you produce. You need to assess thoroughly the market demands of the given product + the time the demand will keep you on your toes. Demand forecasting that includes the targeted audience, if done properly, safeguards companies against potential production hazards.
Inventory control
The next objective that needs to be defined – apart from production capacity and demand forecasting – is the inventory control. A smooth, uninterrupted workflow requires a proper (timely) stock-up of the inventory. ERP production planning with MPS or MRP are a great help in inventory planning and scheduling. You are able to manage and synchronize the inflow of raw materials in a proper manner so that you prevent any disturbances in the work process.
Waste generation
An important objective if you want to keep up with your competitors relates to the environment. A target for the amount of waste generated should be set when we talk about production planning strategy. Consider if the waste generated in plants can be used elsewhere, for example, as raw materials in some other parallel processes through the production line. And the effect of proper waste management through ERP production system? Improved company's stability and sustainability.
Risk assessment and control
There is no successful production planning or production strategy without a properly done risk assessment. It should also be included on the list of your top priorities for ERP production planning. A risk assessment and control procedure will pinpoint all the glitches throughout the production plan. By taking into consideration historical data of previous projects, you are able to forecast the risk areas that require careful attention. A control system is a must which will show you exactly the risky spots with the production line and one that will help you assess the overall and specific risk impact.