What's new in Release 29 of Microsoft Dynamics 365 Finance – Prevent update picking quantity and release to warehouse if a sales order is on hold? Here we are with the latest features in Microsoft Dynamics 365 Finance. Our experts have had a look themselves to see how they fare. Scroll on to learn what they've introduced to boost your user experience.
The details
This feature checks for credit holds on sales orders when the pick quantity is updated from the sales line item. Previously, if a sales order was on credit hold, the pick quantity could be updated. This feature prevents a pick quantity on the line and also prevents the release to warehouse if the sales order is on credit hold.
Business Value
It's an essential control to avoid the picking quantity update and release to warehouse when the sale order is on credit hold. The subsequent transactions are restricted till the sales order is released from the on credit hold.
Required configuration
The feature is enabled by default, however, credit management parameters should be enabled in order to use this feature.
In the credit and collection module > Setup > Credit management setup > Credit management reasons, create the relevant reason codes for putting on hold and release from hold.

Transaction
To put a sales order on hold, we need to open the sales order from
Accounts Receivable
>
All sales order
. Navigate to
Credit management
and then click on the forced credit on hold.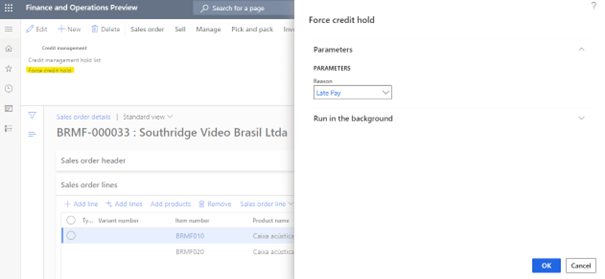 Now that the sales order is placed on hold, let's try creating the picking list for the sales order. We can see that the booking has been cancelled. The picking list is not allowed as the sale order is on hold.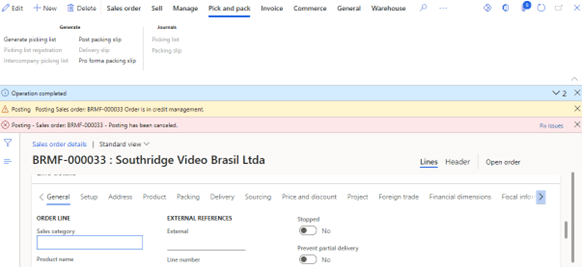 Result
In the above, we have found that for an on hold sales order, a picking list cannot be updated. The picking list and release to warehouse will not be allowed till the sales order is released from the on credit hold.
Check the offer for the support and development of MS Dynamics 365 FSCM
here
.