What's new in Release 29 of Microsoft Dynamics 365 FSCM – Allow edits to internal data on general ledger vouchers?
Here we are with the latest features in Microsoft Dynamics 365 FSCM. Our experts have had a look themselves to see how they fare. Scroll on to learn what they've introduced to boost your user experience.
The details
This new feature will allow edits to internal data on general ledger vouchers. It will make it possible to edit the transaction text for the booked transactions if the editing user is assigned with the
Accounting Manager
or
Accounting Supervisor
roles. Audit trail is available for the changes made.
Business Value
There has been a need for editing some non-financial impact information on a booked voucher. Now, it's possible to edit the transaction text of the posted voucher without compromising the audit trail. It will allow the user to edit the description of the transaction instead of reversing and creating a new voucher if required.
Required configuration
Enable Allow edits to internal data on general ledger vouchers from Feature management.
Add the user for editing to either of these roles: Accounting Manager or Accounting Supervisor.

Transaction
Now let's select a booked voucher transaction from
General Ledger
>
Inquiries & report
>
Voucher transactions
. The transaction text is shown as
Vendor invoice
and editing the voucher is enabled in the field header.

Click
Edit internal voucher data
and input the new description as well as the reason for editing. Click [
OK
].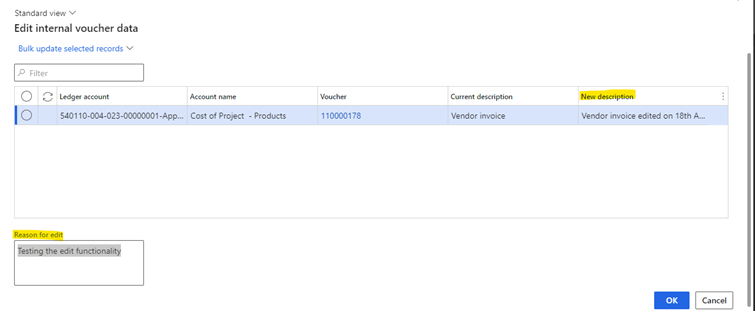 We can see the transaction text has been changed to the new one, however, it is only updated for the selected line of the voucher. If it's is required to change it for multiple lines, select the lines first and then try editing the voucher data.
The audit trail can be generated in a similar way:
Edit voucher data
>
Audit trail of voucher edits
.
End Result
In the above feature, the transaction text (description) is modified for the booked voucher.
Check the offer for the support and development of MS Dynamics 365 FSCM
here
.