Making a decision about implementing a new manufacturing ERP software is not easy. It is tricky – on the one hand, you need to consider the initial investment and resources required to kick off the project. On the other hand, you need to take into account the ROI (Return on Investment) that you would see only after implementing the system. That is why you need solid data and analysis before you decide to invest in a new software for your manufacturing business.
On behalf of Microsoft, Forrester research interviews companies to understand what – according to entrepreneurs – is the value of the solution. Such a study has been done quite recently to assist enterprises who use Microsoft Dynamics 365 Supply Chain Management (SCM). The results are interesting and insightful. And the study itself is of great help for decision makers to see what impact their ERP manufacturing software implementation will have for their business. "Dynamics 365 Supply Chain Management provides a solid extendible ERP solution that allows us to tailor the product to our unique business needs at entERPrise scale while aligning to our cloud-first technology strategy." /software engineer director/
Who took part?
Forrester researches took under the microscope companies who relied on on-prem solutions before their Dynamics 365 SCM implementation. The change of their ERP manufacturing software was a result of heavy (hence, costly) customizations. The companies who participated in the study suffered high costs of maintaining their technical infrastructure and were hoping to improve their overall supply chain process time. The benefits that were analyzed following the TEI study were grouped into two categories: quantified and unquantified.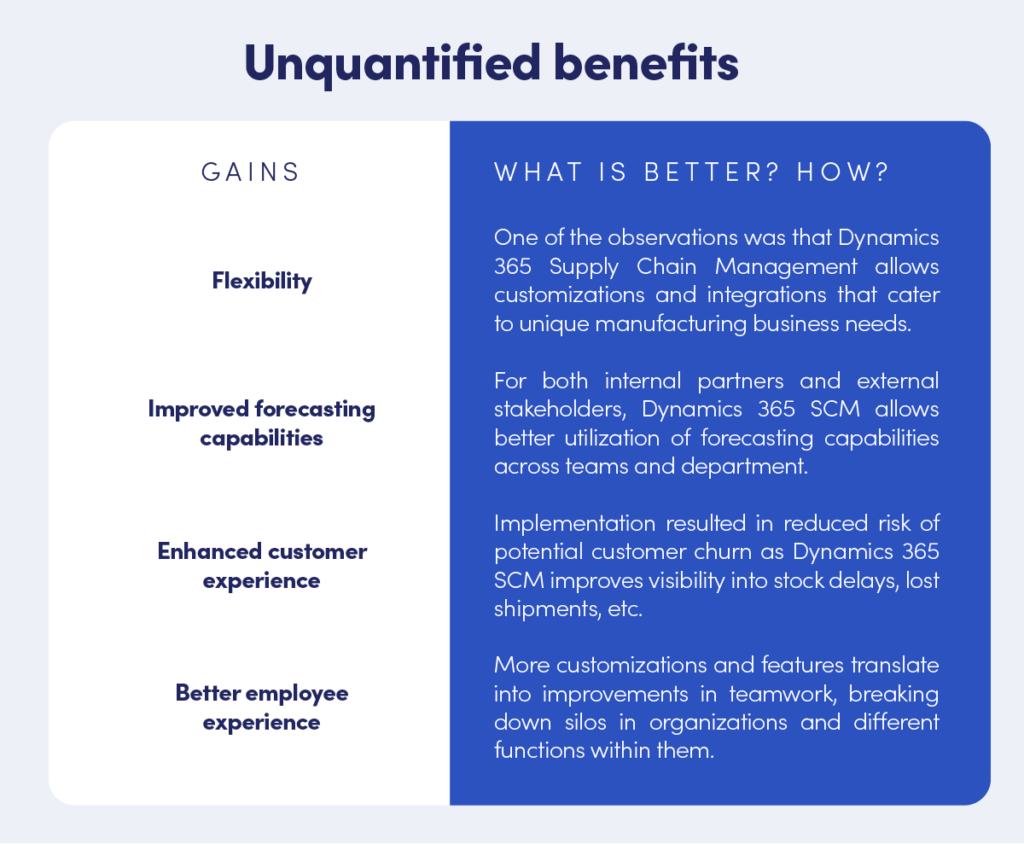 Ready for some more figures?
TEI study has uncovered multiple quantified and unquantified benefits from implementing a modern ERP manufacturing software which is Microsoft Dynamics 365 Supply Chain Management. To sum them up, through implementation of this system, companies saw financial savings equal to $44.33 million over 3 years. And the investment provided a ROI of 90% which took not even a year (22 months) to pay back.
The next step…?
Information provided during interviews is essential. Based on the data gathered, Forrester built a framework for those companies who are weighing their options when it comes to choosing manufacturing ERP software such as Microsoft Dynamics 365 Supply Chain Management. It sums up all the necessary info– the framework analyses costs, benefits, flexibility and risk factors. Thanks to this, companies can clearly see if Dynamics 365 SCM is the best ERP for manufacturing needs they have. They see the big picture and they know what impact the implementation will have for them down to the smallest detail. Do you see the big picture now, too? If you are eager to learn more, visit our
offer
. We have been helping companies implement and utilize Microsoft Dynamics 365 Supply Chain Management for over 20 years now.