When you hear about an Enterprise Resource Planning (ERP) system, most of the time you think about the production, warehouse or commerce industry. However, the ERP system is extremely beneficial for financial management. An ERP financial module can take care of all areas of financial and accounting business processes and operations. It gathers all the financial data to generate:
Reports
Quarterly financials
Overall balance sheets
Trail balance data
Ledger
Income statements
An ERP in financial management system supports the company with all the compulsory financial activities such as:
General ledger
Accounts payable
Accounts receivable
Tax management
Capital management
Procurement
Purchase management
Bank reconciliation
Why an ERP in finance and accounting?
ERP software is playing a more and more important role for modern business. Why? It drives innovation through automation, enhances productivity via a single point of truth and streamlines the business processes thanks to data integration– mainly finances and accounting.
For business owners, managers and CFOs, an ERP system allows for making quick, informed decisions for financial management. This directly impacts profitability by enabling agility and unlocking powerful financial insights across global operations.
One also has to differentiate between accounting and ERP financial software. An ERP system for finances focuses on future outcomes for business. It emphasizes the tools for budgeting, forecasting and planning. Accounting software, on the other hand, zooms in on current and historical data for general ledger, reporting or tax management. In that sense, ERP software is more comprehensive as it contains separate modules for managing all processes and operations within the finance and administration departments.
And more importantly, if you think about the IT side of things, an ERP financial management system is fully flexible with other software. The financial module can be integrated with other applications used for a specific business – be it CRM, BI, purchasing, order processing, warehouse management, manufacturing and planning, e-commerce, etc. This way, you avoid data duplication, keep the number of software packages to a minimum (reduce costs) and obviously streamline all financial and accounting operations across all departments.
Financial planning – make ERP in finance a must
Why are more and more businesses across the globe choosing an ERP in finance? Mainly to improve their financial planning. With ERP software, they can review their organization's fiscal state through forecasting. Financial planning involves gathering information on current financial figures and analyzing probable forecasts and outcomes. With such a system, you make sure that all financial data is always accurate. Financial analysis and forecasting without an ERP in finance department is a burdensome and time-consuming task. That is why a lot of companies tend to rely on ERP in financial management to save time for financial teams and streamline the processes that would otherwise take up lots of time and that are very error-prone, too.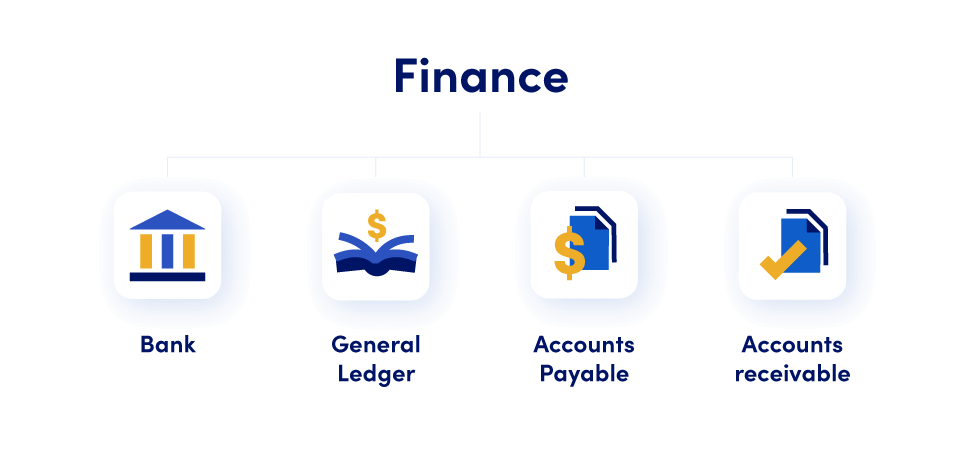 ERP in Financial Management – main benefits
Enough with the theory. Let's now take a look at the benefits that are offered via ERP software and its functionalities.
Transparent financial management
A 360-degree view into finances and accounting allows you to access and use financial information whenever you need it. An ERP system gives dependable, actual and precise information in a timely manner thanks to financial data visibility. This guarantees the business resources are used optimally and processes can be streamlined and thus efficiently managed.
Comprehensive financial and accounting
Managing cashflows efficiently requires using an ERP system for accounting and finances. With such software, you get access to critical fiscal information, can set a budget and assign financial resources accordingly. A single, unified system allows management of procurement, payroll, expenses, etc. and reduces the time and resources spent otherwise on additional tools and separate software.
With a finance ERP system, you can accurately draw up budgets, manage cash, allocate costs and estimate capital requirements.
Financial management automation
Multiple financial and accounting processes require automation. ERP software contains in-built customizations and workflows that largely improve the fiscal management and resolved complex activities around invoicing, reporting, account receivables and accounts payable. A single point of truth supports tracking, analyzing a gathering of financial data across all the departments and enables automatic generation of financial statements, balance sheets, P&L statements, etc. Ultimately, with an ERP system, you make more informed decisions that will drive higher revenue to your company.
Tracking capabilities
Staying on top of all financial workflows and processes gives more security and stability for the financial department but also for the company.
An ERP software in finances and accounting works a comprehensive financial management system. It can be utilized for processes related to invoicing, payment tracking, credit management, etc.
On top of that, an ERP system lets decision makers keep track of profits and budgets and allows a thorough cost analysis and forecasting.
Advanced reporting capabilities
For the accounting and financial department, reporting is a significant part of the daily workload. An ERP system prevents doing it manually. Both preparation and dispatch of detailed and accurate financial reports – be it tax or bank authorities, agencies, various stakeholders or shareholders – can be done automatically with an ERP system. Moreover, it can be customized to meet specific business or compliance requirements.
Streamlined budgeting
Budgeting is a crucial – if not the most important – part of business.
An ERP financial system can show exactly how the company is doing in terms of spending. It gathers and store all the company's financial information and sales figures.
Based on this, companies can project revenue and expenses much more easily. Certain modules can go as far as to assess marketing campaigns and analyze supply chain utilization in detail. This goes hand in hand with eliminating financial waste and introducing a leaner business model that means more profits for the business.
Real-time insights
ERP software give visibility into the financial conditions of the business across all departments. It prevents any hiccups related to inaccurate expense control, revenue measurements and other accounting activities.
With solid ERP software, you stay on top of every fiscal transaction and activity, stay informed of all operations as they happen and so can also react accordingly in time.
An ERP in financial management allows for all transactional information to be available for immediate review via dashboards with real-time data. Financial teams with increased capabilities (supported with ERP software) have complete financial visibility over the company's receivables and payables. They are also able to get a full overview of the sales forecasts, inventory levels and manage all bookkeeping much more efficiently to ensure higher profitability.
Variance management
The ERP system also offers an ability to review various costs over a certain period of time or using specific parameters. Hence, the business is able to quickly assess why the cost variance occurs and remediate it before it impacts the profits. And if the costs turn out to be lower than expected, new standards and conditions can then be introduced,
with an ERP financial management system, companies can reference multiple cost balance and create cost tables. In this way, they can efficiently review and accurately analyze cost allocations for more informed decisions across the organization.
As variance management is critical for financial management, ERP software that can help in this respect can support the company's accounting department in setting standards. Companies can review and adjust expenses for projects more easily and provide a clear baseline by, e.g. taking the production cost and any expenses related to manufacturing.
Reduced human error
Utilizing ERP software eliminates the risk of human error. Manual data capture, reporting, etc. is extremely prone to errors. Erroneous entries can result in incorrect or incomplete accounting data, impact negatively the quality of financial reports, tax documents, sales orders, invoices, etc.
An ERP system by automating data entry processes minimizes the risk of generating incorrect documentation, paying incorrect amounts and losing the customers' trust.
Enhanced asset management
Companies using an ERP for finance get better insights into their asset management.
An ERP in financial management can be extremely valuable for companies with different types of assets: machinery, office furnishings, electronic equipment or even buildings. It helps to gain better asset accountability and reduce the risk of loss with timely inventory management.
This way, companies avoid wasting funds on redundant spendings on resources that can be re-allocated or… are already owned by the company. Better monitoring of assets also lowers the risk of theft.
Compliance
ERP for finance is entirely integrated with the company's information that includes units of sales, order management, shipping, etc. What this means is that such software ensures that safety and financial regulations are met. With customization, companies can be alerted of any suspicious financial activity of vendor recalls. Companies have tracking capabilities with audit trails so that they have full confidence that they fully abide by all the regulatory rules.
Financial data security
Compliance and data protection is key when managing financial information. An ERP system prevents data security fraud via multiple level security, database protocols and role-based access authentication.
ERP software when used for handling sensitive financial data prevents security breaches and helps to maintain business continuity through adequate and safe financial management.
ERP in finance – what to choose?
There are a lot of ERP systems on the market. Choose one that has a module dedicated to finance and accounting. One of such solution that is popular globally is Microsoft Dynamics 365 Finance. It fully integrates with other Microsoft applications. You can find all the details about its functionalities and tangible benefits for your business that you can achieve with
Dynamics 365 for Finance
. Check our implemenation offer on
Microsoft Dynamics 365 Implementation Services