There are frequently received questions from the community considering the implementation of a CRM (Customer Relationship Management) solution. In this regard, we understand that Microsoft Dynamics 365 applications can be confusing and, in the end, deciphering which one is the best fit for a given business can be complicated.
What is Microsoft Dynamics 365 Business Central?
One area that causes particular confusion is the difference between the sales functionality of Microsoft Dynamics 365 Business Central and Dynamics 365 Sales, and which one a business might need. In this article, you'll find an overview of both products, a comparison of the two, and when an organization might use one tool over the other.
What is Microsoft Dynamics Business Central and Microsoft Dynamics 365?
Business Central is Microsoft's cloud-based ERP offering, suitable for small to mid-sized organizations looking to upgrade their legacy accounting software or management system to a single, comprehensive solution. Microsoft Dynamics 365 Business Central is designed to help businesses manage their financials, manufacturing, projects, inventory management, shipping, and much more. Within Microsoft Business Central, there is the customer relationship management (CRM) functionality to help support sales teams. However, this is a very basic and limited functionality compared to specific CRM systems.
In contrast, Dynamics 365 Sales is a cloud-based CRM solution designed and built specifically for managing sales teams, and belongs to the Microsoft Dynamics 365 suite. The solution allows companies to qualify leads, manage sales opportunities, build relationships, structure and automate elements of the sales process, among others.
It should be noted that both Microsoft Business Central and Microsoft Dynamics 365 are two separate solutions and must be purchased and licensed individually, although they can be integrated through a standard connector. However, there are similar CRM capabilities in both, which has caused some confusion around which ones are more suitable for businesses. Read on and discover the differences between the two solutions.
Should I use Microsoft Business Central or Microsoft Dynamics 365 as my CRM solution?
As we have already discussed, the CRM functionality within Dynamics 365 Business Central is quite limited compared to Dynamics 365 . While this option may be sufficient for the contact and opportunity management needs of some companies, those looking for an end-to-end CRM solution, that is, one specifically designed for customer relationships, may not be satisfied with this solution. In this regard, the basic features of sales management in Business Central include the management of your contacts, opportunities, accounts, quotations and orders as well as campaigns and segments.
If we compare this to Dynamics 365, which is built as among others a CRM solution, the capabilities of the latter solution are much more extensive. Therefore, this is a better option for companies looking to extend the above features.
Here are a few reasons why Microsoft Dynamics 365 is the best choice for implementing a CRM-specific solution.
Benefits of implementing a complete CRM solution
Flexibility to customize the platform
Microsoft Dynamics 365 is based on the Dynamics AX platform and therefore facilitates customization to meet a wide range of needs and processes. Whether your company wants to build, extend the current process or create new ones, the solution can be easily configured to fit your requirements. Business Central is not as easy to customize as Dynamics 365 and therefore development costs can be higher if customizations are required.
Marketing automation functionality
Marketing automation tools such as ClickDimensions, Dot Mailer or MailChimp are integrated or work natively with Dynamics 365 Sales. Thus, having all customer data in one place not only makes it easier to segment information, but also makes it more powerful for targeted marketing.
Another benefit of working within such a recognized platform as Microsoft Dynamics 365 is the ease of linking the website and tracking customer journeys. This option will give you more insight into how your leads consume your information and make your marketing department's efforts more effective.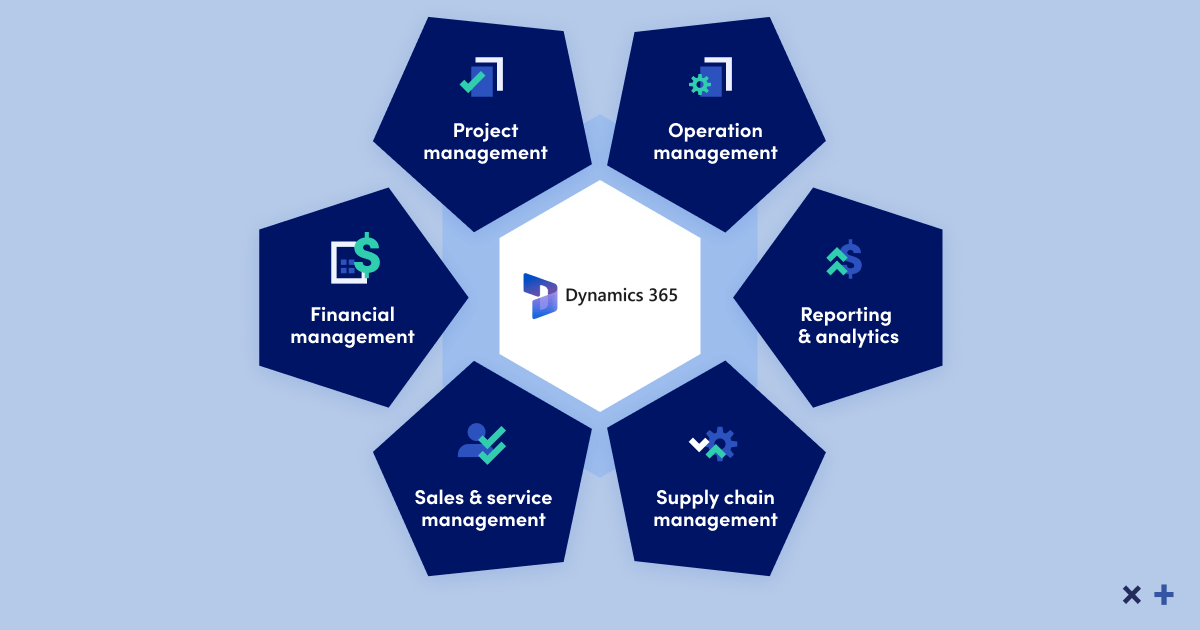 Ability to leverage other Microsoft Dynamics 365 applications such as customer service, field service, etc.
Companies that adopt Microsoft Dynamics 365 and have other areas of the business related to customer service, field service (technicians) and project management can easily adopt the other applications in the Microsoft Dynamics 365 suite, while using the same platform and having all the data in one place.
Account management capabilities such as activity tracking.
Microsoft Dynamics 365 allows for easy tracking of activities such as emails, tasks, phone calls, appointments... providing a holistic view of customers and contacts.
Telephone integration
There are many telephone solutions that work with Microsoft Dynamics 365 (8×8, Gamma Horizon, and many others). These solutions provide excellent functionality, such as automatic follow-up activities, on-screen pop-up calls and call recordings, allowing companies to get customer information and track all their data from a single platform.
Integration with Microsoft 365, Outlook, SharePoint, and Microsoft Teams
Microsoft Dynamics 365 has a strong integration with many products of the Microsoft 365 suite (formerly Office 365): SharePoint for document management, Teams for cross-departmental collaboration and communication, Outlook for productivity and organization of tasks, emails and appointments, Word and Excel for templates, etc.
Make the most of AI (Artificial Intelligence)
Microsoft has invested heavily in AI to help sales teams become more efficient and effective. Tools like Relationship Assistant are designed for microsoft Dynamics 365 and are supporting teams to build better relationships and, in turn, sell more.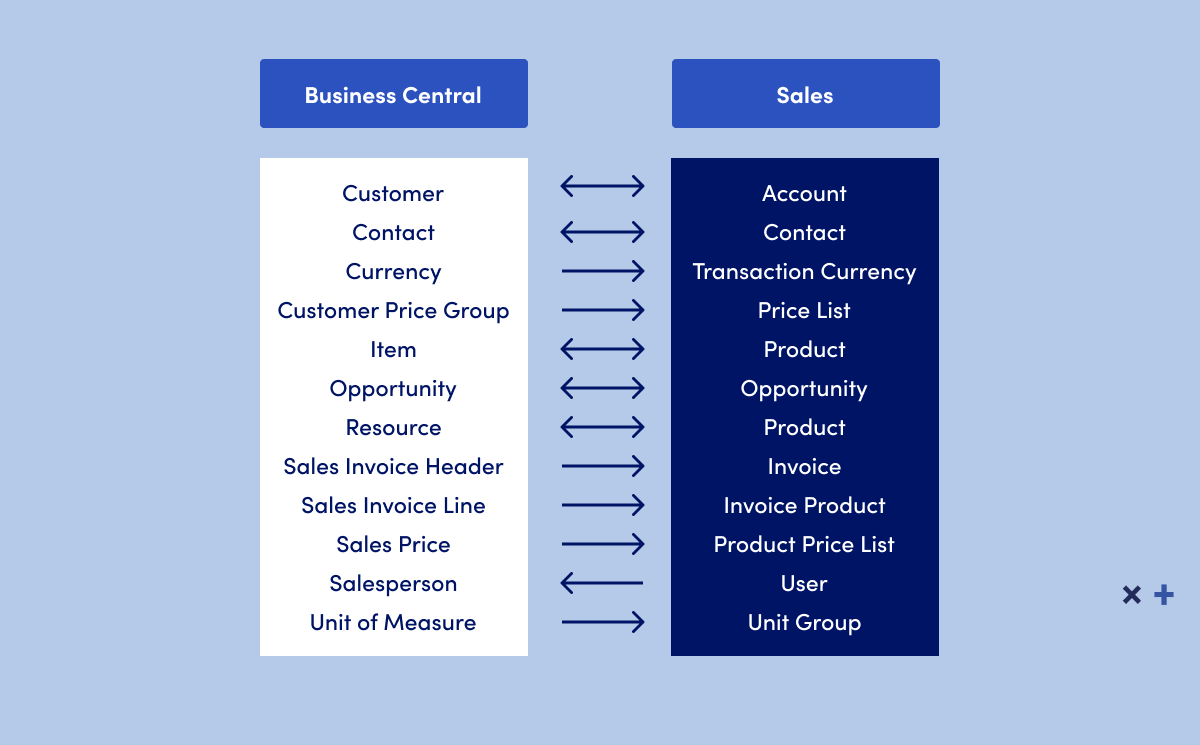 Comparing Business Central and Dynamics previous versions
The features and functions of both Dynamics 365 Business Central and older Dynamics are virtually the same. The significant difference is the platform. Initially, Dynamics was built for on-prem deployment while Dynamics 365 Business Central is built for cloud deployment. So, you can host Dynamics 365 CRM in the cloud as well, but it doesn't offer the same seamless experience as intentionally cloud-based software. Business Central has all the capabilities of Dynamics 365 plus the cloud advantage.
What are the differences between Microsoft Dynamics 365 and Business Central?
Platform
Dynamics was originally built on-prem and hosted on-prem solutions.
Business Central is designed more for cloud-based deployments although it can also be hosted on-premise. Business Central has integration with cloud services and cloud intelligence.
Approach
Dynamics 365 has predominantly on-premises deployments with some hosted sites. Often invasive customizations to suit customer needs, which have proven difficult and costly to maintain, upgrade, extend and support.
Business Central is predominantly cloud-based deployments. Business Central has less invasive customizations and rather multiple extension applications to extend and enhance enterprise business processes, which can be automatically updated in semi-annual upgrades typically with little or minimal effort. Business Central is easier to extend, upgrade, and support
Development environment and language
Dynamics 365 is C/SIDE (Client/Server Integrated Development Environment), which was an older technology with a fixed editor and very limited coding support. C/AL (Client/Server Application Language), which was a database-specific language. Dynamics 365 is object-based, with all objects stored in the database. Dynamics 365 is difficult to release and to maintain version control of source code is also an issue.
Business Central is a modern, multilingual development environment using Visual Studio code, which is open source and cross-platform. Development environment that uses VS code extensions that enhance the development tools, including text editor enhancements for a better programming experience. Its AL (Application Language) language is based on C/AL but has been extended for future new features and language updates.  PowerShell scripting for easier and faster task handling and task automation.
Updates
Dynamics 365 offers One Version, so updates are hassle free.
Business Central has automatic biannual updates with the latest. This means that your company will always use the most optimized version of Business Central, without the hassle and cost of upgrading manually.
Still have doubts about which solution is best for your business? At XPLUS we have been advising companies on choosing the best management software for their industry for over 20 years. If you need help, do not hesitate to contact us and our experts. We're just one email away.